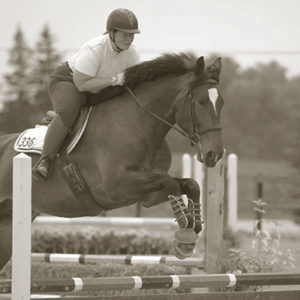 For the past forty years, I've ridden horses in various disciplines: Hunters, Jumpers, Eventing, Dressage, Saddlebreds, Western Pleasure, Polo and even a little Driving. When I'm not desk-jockeying the latest client project, I can be found at the barn riding. I own a young sport horse mare named Lark that I hope to turn into my future Jumper or Eventing mount.
I proudly offer creative marketing solutions for small businesses including: website design, print design, custom branding logos, photography and social media. Though I have clients in many fields, I specialize in the equestrian industry.
At a young age, I knew my talent for the creative arts would be my career. I attended UW-Stout Graphic Design & Fine Arts program and have been a working Graphic Designer since 1995. Soon after, expanding into photography and website design. I'm incredibly inspired by being a creative problem-solver for my clients and love to see them succeed in business.
And the fun stuff …
Who inspires you?
My mom. Without a doubt the most honest, hard-working and conscientious person I've ever met.
What motivates you?
The idea that anything is possible. If you can dream it, you can do it!
What is the highlight of your day?
Watching the sun set from the back of my horse.
What is your favorite family memory?
Saturday night's family dinner in the dining room singing and dancing to Johnny Cash with my dad.
Who is your favorite superhero?
I have to go with Poison Ivy. Red heads look good in green.
What are three things about yourself?
I was one of those weird kids that loved spinach and brussels sprouts.
I was a Girl Scout from 3rd grade all the way through college.
I love roller coasters. (Might also be why I love Jumpers and Cross Country!)
Client Testimonials